Our "Beginner Fencing Camps" are designed for complete beginners, 9-13 years of age. No prior experience is necessary.
2023 Dates and Registration:
Age 9—13
July 17–21, 2023
click here to sign up
July 24–28, 2023
click here to sign up
August 14–18, 2023
click here to sign up
Prices and Times (5-Fun Filled Day Session):
$395/WEEK
Fencing Camp
Mon – Fri
9am – 1pm
Early Registration
$350/WEEK
(paid by June 30, 2023)
Discounts:
$350/WEEK Early Registration (paid by June 30, 2023)
10% off for a sibling in the same camp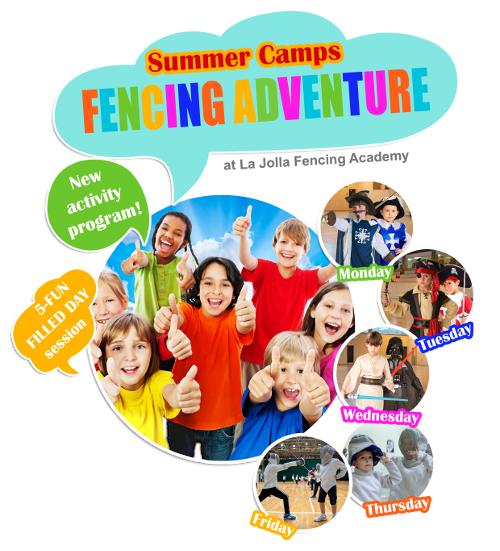 En Garde! Your Summer of Fun with Swords Awaits!
Summertime is for exploration, discoveries, and making memories that will last a lifetime. That's why at LJFA we believe that summer sport camps should be fun and exciting. During the 5-day fencing camp kids will learn the basics of this Olympic sport through games, fun activities and bouting at Southern California's premier fencing facility. Students will learn the basics of fencing through our fun and structured system of youth development which includes building students confidence, teamwork, coordination, balance, and hone their fine motor skills as they learn our winning fencing habits and moves; as well as fencing etiquette, rules, and sportsmanship (fencing is a noble sport after all). The code of chivalry and the modern Olympic values of friendship, respect, and excellence will be emphasized.
Regardless of one's physical abilities or athletic prowess, the sport of fencing is beneficial to all!
What to Bring:
A healthy bagged lunch and snack
Bottled water
T-shirt to change
Must wear t-shirts, sweat pants, indoor NON-MARKING athletic sneakers
Camp ITINERARY
| | |
| --- | --- |
| 9:00AM | Student Drop Off |
| 9:00AM — 11:00AM | Fencing Games, Footwork, and Drills |
| 11:00AM — 11:15AM | Snack Break |
| 11:15AM — 1:00PM | Drills, Conditioning, and Bouting |
| 1:00PM | Student Pick Up |
Refund/Cancellation Policy
All cancellation or transfer requests must be made with at least 15 business days notice prior to the start date of the camp.
A $100 non-refundable cancellation fee per activity per person will be deducted from the refund.
If less than 8 people register to the camp it might be canceled, in which case the fees would be refunded in full.
Space is limited so early registration is advisable.
Waiver Forms
The following two forms must be filled out by a parent/guardian and emailed to lajollafencing@gmail.com at least 24 hours prior to the first camp day.
NO WALK-INS ARE ALLOWED into a camp.