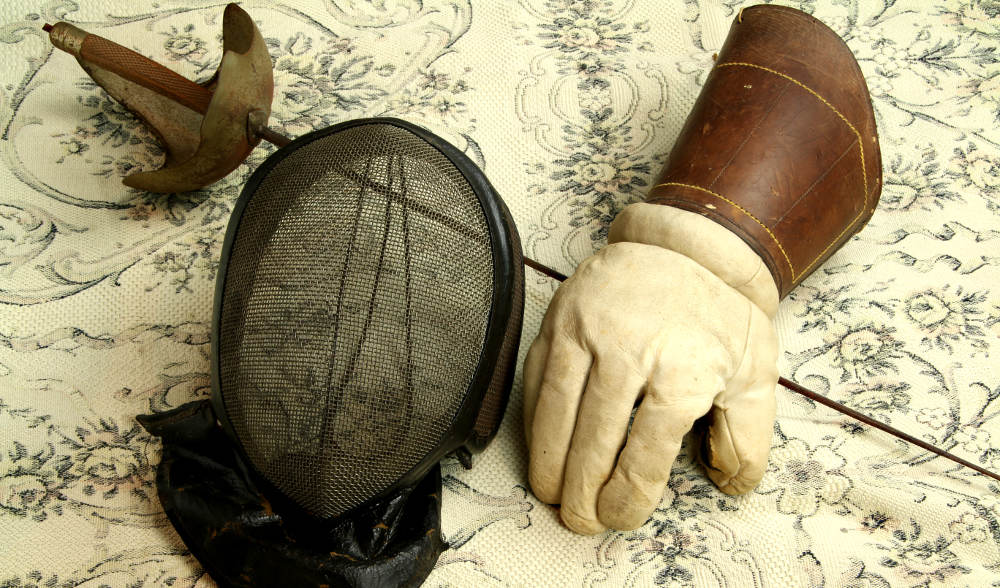 Equipment Needed
All equipment is provided for students taking beginner group classes and private lessons here at LJFA for the first 3 months.
After that, fencers will need to purchase their own equipment.
The fencer should be adequately protected and the uniform should allow freedom of movement to properly perform the necessary skills.
The following is a list of required equipment:
Mask
Chest protector (mandatory for women)
Underarm protector
Jacket
Lamé
Knickers
Glove
Long socks (white, must reach bottom of your knickers- soccer socks work well)
Fencing shoes or sneakers (non marking sole shoes)
Minimum two working weapons
Minimum two working body cords
Fencing Bag (to carry your equipment)
Contact the office if you have any questions regarding equipment and to find out what we have in stock.
Put identification on all your equipment!
In addition to the fencing equipment, you may wish to have:
Water bottle and healthy snack
Extra change of clothes (spare shirt) after practice and tournaments
Towel
Tool kit (screwdrivers, spare screws, springs, Allen wrenches)
Make sure your child has the necessary equipment before class and competitions.
Always check weapons to make sure they are working.
National tournaments require official weapons and equipment checks before fencing.
Wash as you would any other whites – do not use chlorine bleach.
Equipment Care
Lamés may be hung in the shower and spray rinsed and drip dry; some people use blow dryers.
If you purchased a mask with a removable inside, this can be taken out and washed in a regular washing machine.
Wash gloves and socks per normal washing instructions.
Purchase Fencing Equipment
LJFA is proud to feature equipment from Radical Fencing America's premier fencing store. Radical Fencing features the most state-of-the-art fencing equipment for all ages, skill levels, and weapons. Visit LJFA's retail shop and we will happily help you purchase fencing equipment from Radical Fencing and other great retailers from all over the world.
Please visit LJFA's retail shop and our staff will help you purchase fencing gear from Radical Fencing America's Premier fencing store and other reliable fencing stores, such as ALLSTAR and Leon Paul.