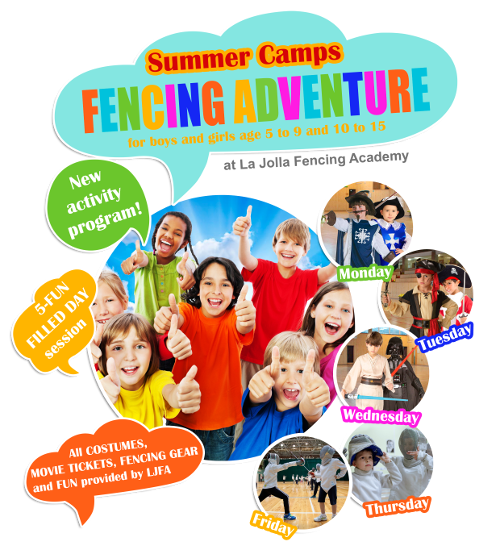 "Fencing Adventure" Summer Camps at La Jolla Fencing Academy
Fencing is a great way for kids of all ages and sizes to build agility, strength, endurance, and flexibility. In addition to fitness benefits, fencing promotes intellectual development, decision-making skills, self-discipline, and self-confidence.
The new fencers will learn proper fencing form and technique; basic fencing skills including footwork, blade work, and distance control; as well as fencing etiquette, rules, and sportsmanship (fencing is a noble sport after all). The code of chivalry and the modern Olympic values of friendship, respect, and excellence will be emphasized.
Summertime is for exploration, discoveries, and making memories that will last a lifetime. That's why at LJFA we believe that summer sports camps should be fun and exciting. Our La Jolla Fencing Academy professional coaches will introduce children to this wonderful sport in an EXCITING, ORGANIZED, AND CREATIVE WAY. Cooperative games and different themes help kids imagine themselves AS MUSKETEERS, PIRATES, AND JEDI.
Learn the history, footwork, and bladework of Fencing!
Be prepared for real-life pirate swordplay while hunting for treasure!
Face the evil empire in lightsaber battles and save the universe!
Conquer your rival like a real musketeer!
Compete in a real fencing tournament!
See the latest blockbuster movie at AMC Theater!
All COSTUMES, MOVIE TICKETS, FENCING GEAR and FUN provided by LJFA
Age:
Designed for children 5-9 and 10-15 years old
Prices and Times (5-Fun Filled Day Session):
Full Day Camp
$450/WEEK
(10am-3pm

*

)
Half-Day Camp
$250/WEEK
(10am-12pm)
Per Day Camp
$100/DAY
(10am-3pm)
Early drop off at 9am and late pick up at 4pm is available if needed for no additional charge.
Discounts:
10% off for a sibling in the same camp
What to Bring:
A healthy bagged lunch and snack
Bottled water
T-shirt to change
Must wear t-shirts, sweat pants, indoor NON-MARKING athletic sneakers
2018 Dates and Registration:
The deposit of $100 is non-refundable. In the event that you need to make a cancelation every attempt will be made to place your child in another camp. If this not possible, funds will be refunded less the $100 deposit.
| | |
| --- | --- |
| "Fencing Adventure" Summer Camp #1 | July 9—13, 2018 |
| "Fencing Adventure" Summer Camp #2 | July 23—27, 2018 |
| "Fencing Adventure" Summer Camp #3 | August 13—17, 2018 |
You can also register for camps by filling out the Camp Registration Form and submitting it to LJFA office.
Camp ITINERARY
*
| | |
| --- | --- |
| 10:00AM | Student Drop Off |
| 10:00AM – 12:00PM | Fencing Games, Footwork, and Drills |
| 12:00PM – 1:00PM | LUNCH & Fencing MOVIE |
| 1:00PM – 3:00PM | Drills, Conditioning, and Bouting |
| 3:00PM | Student Pick Up |
On Friday kids will see the latest blockbuster movie at the AMC La Jolla Movie Theater, just an escalator ride down from LJFA facility, and will have a fencing tournament!
Refund/Cancellation Policy
All cancellation or transfer requests must be made with at least 15 business days notice prior to start date of the camp.
A $100 non-refundable cancellation fee per activity per person will be deducted from the refund.
If less than 10 people register to the camp it might be canceled, in which case the fees would be refunded in full.
Space is limited so early registration is advisable.
USFA Requirement
Prior to the camp every camper must register for USA Fencing Association non-competitive membership (cost $10) and bring a proof of registration at the first day of camp.
To register, go to the USA Fencing website, the name of our club is SPARTAK.
If you have any questions please contact LJFA at lajollafencing@gmail.com